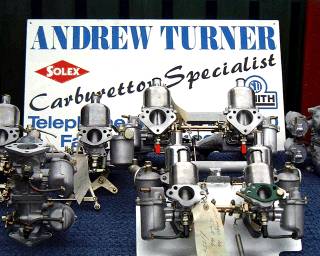 Frequently Asked Questions
1, Do you recondition Weber / Delorto / Hitatchi / Foreign Solx / Foreign Zenith carburettors?
No, reconditioning parts for these carburettors are difficult to obtain.
2, What do I get for my money?
All prices quoted include beadblasting of manifolds and carburettor bodies, replating of all linkage, polished dash pot tops, a full genuine SU / Zenith /Solex rebuild kit fitted, new metering needles, and mixture and idle set.
3, My carburettors are not correct for the year of car.
We are usually able to correct this for a small additional cost.
4, I've got a garage full of old carburettors, are you interested in buying them?
We are always interested in buying old units, preferably complete with manifold and linkage.Prices vary depending on carburettor type and condition.
5, Are the carburettors set up ready to go?
The mixture and idle are set as recommended by SU/ Zenith /Solex. We include with every reconditioned carburettor a set-up and tuning guide.
6, Do you offer technical back-up?
Yes, you can phone anytime ( within reason!!!!!) for advice on fitting and tuning your carburettors.
7, My car hasn't run for 15 years and the carburettors are seized, can you do anything with them?
Yes, most times this is not a problem. Occasionally new parts may be required, but we will always warn you before fitting them.